How to buy the property in Thailand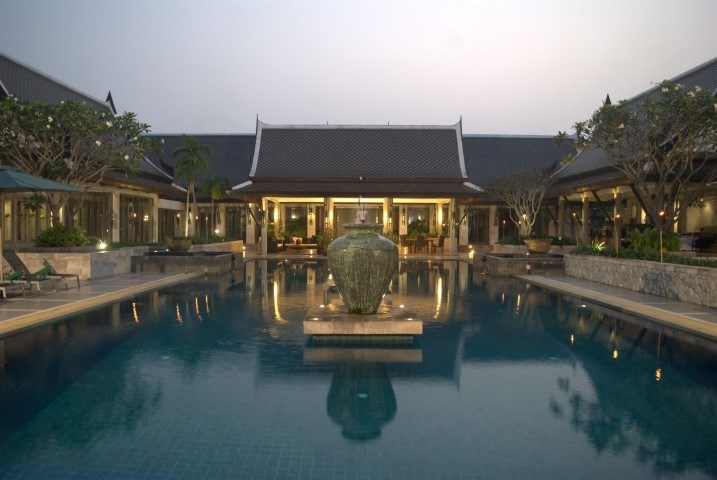 Pattaya is growing with no limit – nearly every week a new condo project is launched but don't underestimate the "Dark Side" where probably more houses are under construction than condos on the sea side -
so for people who are new to the property market here is how it works:
House or Condo?
To decide between a condo or a house has something to do with your personal life style but there are differences in the legal aspects as well.
A condo you can buy "in your name" meaning that a foreigner can be registered as the owner in the Title Deed "Chanod". Under the so called "Foreign Quota" foreigners can buy 49% of the sell-able area of a condo project.
To make it clear: the foreigner owns the unit (condo, apartment) 100%
Foreigners do not need a special visa for buying, the "visa on arrival" (normally one month) is enough, but they need a certificate by their bank, that the funds to buy were converted from foreign currencies into Thai Baht (some people might remember "Tor Tor 3" or "tor tor sam" - nowadays the system to prove the origin of the funds is much more flexible).
Foreigners can own houses but not the land! Different ownership of the buildings and the land they are set upon is something not all foreigners are familiar with. For example Germans might know this with properties owned by the churches, the railway or local councils or in harbors, mostly commercial properties, rarely residential.
Nevertheless foreigners can register a 30 years lease or a loan at the land office. Other possibilities arise from company owned properties. How to do this depends on the personal situation of the foreigner and/or the ownership of the land. No general advice, talk to a qualified (PREBA) agent.
Be aware that you cannot have pets and cook with gas in the condos. Furthermore the sq.m. price of a condo is higher than that of a house (living area). On the other hand you can spontaneously go on a vacation without worrying about your garden, pool or your belongings.
A leaking roof or a faulty pool, maintaining of the garden etc. will be taken care of by the management if you own a condo; as a house owner you have to do it yourself.
On the other hand you have a terrace instead of (sometimes tiny) balcony, your dog takes care of owner security and you can entertain all your friends on a BBQ party.
If you like to stroll on Beach Road every day, enjoy traveling, no kids - consider a condo, if you think your "home is your castle" and you enjoy sitting on a terrace and have a garden - a house would be more suitable.
I personally would decide upon "lifestyle" as the legal issues can be solved but it is your choice.
Use a qualified agent!
Surely you can go around and visit show rooms and talk to sales staff but keep in mind that they have to sell only their project. An agent will sell you want you want!
PREBA (Pattaya Real Estate Broker Association – www.pattayarealestatebrokers.com) members are highly qualified, follow a strict "Code of Ethics" and "Rules and Regulations", update themselves constantly about changes of the law and the real estate market, know the place, have been around for many years (Siam Properties is 19 years old and I have been here for more than 24 years).
A good agent will listen to your requirements, ask about size, location, budget etc., put a tour together and show you several properties, afterward reflect the tour (it is always a learning process for the customer and the agent), probably set up a second or third tour etc. until you find your new home.
The agent will explain you the whole process of buying and after you choose your property will negotiate the price, issue a contract and also execute the purchase, if necessary with a lawyer.
I know lots of cases that went terribly wrong but NEVER a PREBA agent was involved. Be aware there is a lot of paperwork in Thai you have to sign, most foreigners can speak only a bit of Thai (but who can actually read?), negotiations are often held in a third language (mostly English, might not be your native language neither the language the sales person is fluent in).
PREBA members will take your knowledge of the market and the area into consideration and not only answer your questions honestly but also tell you things you should know but never knew and asked about.
Last and not least: the commission is paid by the seller!
The Contract
The contract to transfer ownership is made at the land office and it is in Thai language.
Before that you should sign a contract with the seller regulating
"who buys what from whom at what price and when"
Sounds simple but be aware that the seller is the owner or has a correct Power of Attorney, that the property is actually the one you looked at, that the furniture etc. is included if agreed upon (inventory!), that the date of payment (s) are precise, that there is a deadline (very important if something goes wrong) etc.
In my 24 years in Pattaya I have seen many "weak" contracts with flaws that would be difficult to process in a court of law. If the contract is faulty but everything goes on smoothly you are lucky - but contracts are made for 2 reasons: to fix what is agreed upon and for the case something goes wrong.
A contract is like a safety belt and an air bag: most times you don't need it but you are happy to have it if you crash.....
Hand Over
A qualified agent will accompany you during the hand over to make sure that everything is there and in the condition you expect, transfer utility bills, is the property insured, are all the documents there like title deeds (chanod) or house registration (tabien baan, the Blue Book), keys, passwords and code for the safe, etc.
This article can only touch some points that have to be considered. It is like chess: the rules can be written down on 2 pages but to play the game you need a life time.....
Use a qualified agent!
They will advise the buyer upon:
what are the specific needs of the buyer: residential, investment, holiday home or permanent residence, size, garden, private pool, gated community or outside a village

house or condo

what location

compare with similar properties

is the property worth the asking price
Sellers (private or in showrooms) only sell their products!
Agents sell the property YOU need!
They will advise the seller upon:
valuation of the property

how to sell: finding the right channels for marketing and advertising this specific property

what are the characteristics and features that make this property outstanding
For Seller and buyer:
negotiate the terms: price, payments

draft a contract:

checking all documents, preparing payments

execute the contract: transferring ownership
paying the seller, paying taxes
hand over: checking inventory, transferring utility bills,
"Blue Book" (tabien baan), insurance, keys, passwords,
code for the safe, numbers and contacts of gardener, pool service,
maid and much more
The emphasis is on QUALIFIED! The law does not require a license for the agent nor does the law protect the consumer!
There are many qualified agents with high qualification and lots of experience. Make sure that the agent has a high level of work ethics.
All of this you can find here:
https://www.siamproperties.net/About-Siam-Properties-Pattaya/2917
We are founding members of PREBA – Pattaya Real Estate Broker Association
www.pattayarealestatebrokers.com
Highly Qualified, committed to the "Rules and Regulations" and the "Code of Ethics" of the National Association of Realtor USA
It is better to be safe than sorry!